Hello! I'm Andreea, the owner of Save the Date.ie, a luxury stationery design studio, located in the beautiful city of Galway, on the West coast of Ireland.
Over two decades ago, I fell in love with graphic and web design and, in 2011, I finally left my job as a project manager and founded Save the Date.ie.
Since then, I had the pleasure of working with hundreds of couples from Ireland and from around the world, making for them the most beautiful wedding and event stationery.
With almost 200 testimonials and reviews across social media, I stand by the quality of my wok. I'm also the winner of  Weddings Online 2020 Ireland Stationery Designer of the Year Award, Best Wedding Stationery Provider 2019 – Villa Maria Romantic Awards, Irish Print Awards 2016 – Events & Corporate Stationery Printer of the Year and Businesswoman of the Year 2014, Self-Employed, Galway Network. I was also a finalist in Weddings Online Awards 2020, 2016 & 2013, Mrs2Be Brides' Choice Awards 2018, 2015 & 2014 and Irish Wedding Awards 2020 and 2018.
I absolutely love creating invitations and all other event stationery, using the finest materials and beautiful embellishments. As you can probably tell, I'm a perfectionist when it comes to creating invitations. My ethos is to deliver every single time the perfect invitations: elegant, delicate and able to set the tone and convey the feelings and emotions of a magical wedding.
When it comes to designing the wedding stationery, I offer a personalised experience and I truly enjoy working closely with every single one of my couples. I'm always aiming to achieve the most beautiful and personal wedding invitations, that will represent on paper my customers and their wedding day.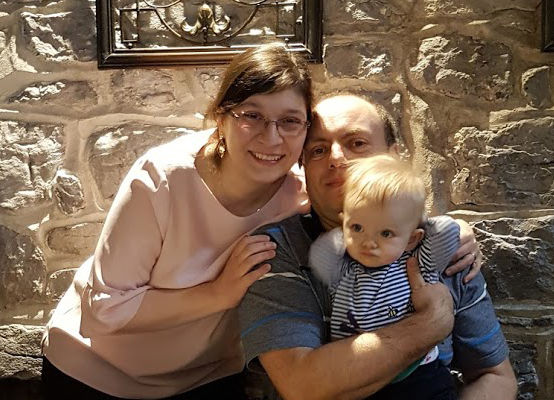 When I'm not working in my studio, I love: spending time with my wonderful son Luca and my family, making cakes, travelling, drinking good coffee, reading beautiful and inspiring life stories and watching arthouse movies.
Thank you for taking the time to learn a little bit more about me and I look forward to working with you on your wedding or event stationery soon!
Andreea x